PPIG can provide you with all the resources you need to help you find your home or condominium in South Miami.
About South Miami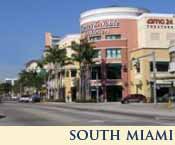 Search Properties
» South Miami Homes
» South Miami Condos/
Townhouses
» South Miami Land
» View a Map of South Miami
South Miami
Community Links
South Miami creates a unique mix of residents and is located between Coral Gables and Pinecrest found on the Metrorail line. Located in the heart of South Miami are the Shops of Sunset Place, one of the region's largest retail-entertainment centers and a modern, multi-level shopping complex, located right off U.S. 1. This eccentric building consists of distinguished stores, unique boutiques, a 24-hour movie theater and well-known restaurants to create a new dimension to this diverse city. South Miami homes range from estate homes, low-rise condominiums and apartments. This astounding city attracts a large number of professionals including singles, couples and families.
» Search South Miami Properties
South Miami Schools
For more information about schools visit http://greatschools.net/.
ELEMENTARY SCHOOLS
South Miami Elementary School public · PK-5
6800 SW 60th Street, South Miami, FL 33143
South Miami Christian Elementary School private · PK-7
6767 Sunset Dr, South Miami, FL 33143
MIDDLE SCHOOLS
South Miami Heights Elementary School public · PK-5
12231 SW 190th Terrace, Miami, FL 33177
HIGH SCHOOLS
South Miami Senior High School public · 8-12
6856 SW 53rd St, Miami, FL 33155
Miami Douglas MacArthur South Senior High School public · 9-12
11035 SW 84th St, Miami, FL 33173
Map of South Miami