PPIG can provide you with all the resources you need to help you find your home, condominium or waterfront property in the Village of Palmetto Bay.
About the Village of Palmetto bay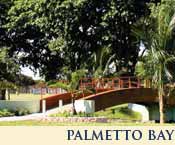 Search Properties
» Palmetto Bay Homes
» Palmetto Bay Condos/
Townhouses
» Palmetto Bay Land
» View a Map of Palmetto Bay
Palmetto Bay
Community Links
The Village of Palmetto Bay is a vibrant community of more than 25,000 residents who enjoy its beautiful surroundings and family-oriented atmosphere. Situated immediately west of beautiful Biscayne Bay, Palmetto Bay offers unique recreational opportunities and bay access for all to enjoy! Additionally, the Village is home to excellent public schools, all of which have annually earned the grade "A" under the State of Florida's A+ Plan, as well as exceptional private schools.

Village residents enjoy the benefits of an extensive park system composed of six park facilities offering a myriad of opportunities ranging from active to passive, recreation to preservation, ground activities to water recreation, and a soon to be constructed neighborhood library. Its commercial corridor along South Dixie Highway is easily and quickly accessible from any location within Village limits. Restaurants, lodging and markets are a few of the service industries available to our residents and visitors.
Incorporating on September 10, 2002, the Village of Palmetto Bay is the 33rd municipality in Miami-Dade County. The Village extends from the centerline of S.W. 136th Street, south to the centerline of S.W. 184th Street, expanding west to the centerline of South Dixie Highway, including the center island, and east to Biscayne Bay.
» Search Palmetto Bay Properties
Palmetto Bay Schools
For more information about schools visit http://greatschools.net/.
PK-K
Madeline Montessori School
18443 S.Dixie Hyw. Miami, Fl. 33157
Waldorf
17700 Old Cutler Rd. Palmetto Bay, FL
Alexander Montessori School -Private Toddler-6th Grade
14850 SW 67th Avenue. Village of Palmeto Bay, Florida
ELEMENTARY SCHOOL
Coral Reef Elementary School
7955 SW 152nd Street. Village of Palmeto Bay, Florida
Howard Drive Elementary
7750 SW 136th Street. Village of Palmeto Bay, Florida
Palmetto Bay Christian Academy
8900 SW 168 Street. Village of Palmeto Bay, Florida
Perrine Elementary School
8851 SW 168th Street. Village of Palmeto Bay, Florida
MIDDLE SCHOOLS
Southwood Middle School
16301 SW 80th Avenue. Village of Palmeto Bay, Florida
HIGH SCHOOL
Miami Palmetto Senior High
7460 SW 118th Street. Pinecrest, Florida
PRIVATE
Palmer Trinity School - private 6 -12
7900 SW 176th St. Village of Palmeto Bay, Florida
Westminster Christian School
6855 SW 152 Street, Village of Palmeto Bay, Florida
Map of Palmetto Bay