Coral Gables, The City Beautiful, stands out as a rare pearl in South Florida, a cohesive community built on a grand scale that blends color, detail, and the Mediterranean Revival architectural style to create a timeless grace and grandeur perfectly in harmony with the environment. Whether you are a first-time visitor or a long-time resident, Coral Gables is a great place to live, work, and explore. Discover Coral Gables, and the many amenities The City Beautiful has to offer.

Learn More | View Properties
Coconut Grove, Florida has been dubbed a "village with a rhythm all its own." Coconut Grove's variety and originality are reflected in the dining choices offered by its eateries and in the jazz, salsa and reggae heard in its funky neighborhood bars. The waterfront parks of Coconut Grove, Florida offer some of the best vantage points for watching manatees and sailboats, while specialty Coconut Grove stores sell an exhilarating range of merchandise.
Learn More | View Properties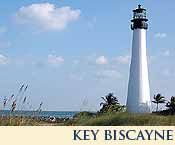 The secluded island of Key Biscayne, Florida can be reached via the scenic Rickenbacker Causeway, which spans beautiful Biscayne Bay. Located south of Downtown Miami and north of Coconut Grove, Key Biscayne touts miles of golden sand beaches and quaint, quiet neighborhoods. At Key Biscayne, Florida, you can play tennis at the Crandon Park Tennis Center, home to the NASDAQ 100 Open tournament every March, while Crandon Park Golf Course's intriguing terrain puts it among the top 50 public courses in Florida. Tropical foliage lines the Key Biscayne road to Bill Baggs Cape Florida State Recreation Area, where the beach invites swimming or kayaking.
Learn More | View Properties
Considered progressive and highly desirable, this popular residential suburb continues to expand rapidly as it has done for over two decades. Young professionals, executives and growing families are attracted by the schools, parks, recreational facilities, shopping centers, houses of worship and many amenities which abound in this 80 square mile area of Dade County.
Learn More | View Properties
Pinecrest is known as one of the most beautiful residential areas in South Florida. Besides its tree lined streets, large estate lots and extremely low crime rate, the city proudly boasts five public schools, and many private schools, which are recognized as the best in the County. Pinecrest is located approximately 20 minutes south of downtown Miami and is home to about 19,000 residents.
Learn More | View Properties
The Village of Palmetto Bay is a vibrant community of more than 25,000 residents who enjoy its beautiful surroundings and family-oriented atmosphere. Situated immediately west of beautiful Biscayne Bay, Palmetto Bay offers unique recreational opportunities and bay access for all to enjoy! Additionally, the Village is home to excellent public schools, all of which have annually earned the grade "A" under the State of Florida's A+ Plan, as well as exceptional private schools.
Learn More | View Properties
Miami and the surrounding metropolitan area are situated on northern Biscayne Bay between the Everglades and the Atlantic Ocean. By population, Miami is the second-largest city in Florida (after Jacksonville), and the county seat and largest city of Miami-Dade County. It is also the largest city in the South Florida metropolitan area.
Learn More | View Properties
South Miami creates a unique mix of residents and is located between Coral Gables and Pinecrest found on the Metrorail line. Located in the heart of South Miami are the Shops of Sunset Place, one of the region's largest retail-entertainment centers and a modern, multi-level shopping complex, located right off U.S. 1. This eccentric building consists of distinguished stores, unique boutiques, a 24-hour movie theater and well-known restaurants to create a new dimension to this diverse city. South Miami homes range from estate homes, low-rise condominiums and apartments. This astounding city attracts a large number of professionals including singles, couples and families.
Learn More | View Properties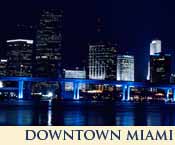 Downtown Miami pulsates with activity as commercial, cultural and leisure pursuits come together. Innovative Downtown Miami skyscrapers compete for your attention, while historic shopping arcades and storefronts packed with merchandise evoke Miami's origins as a trading town. Downtown Miami department stores and emporiums offer big city shopping with a cosmopolitan flair, while Downtown Miami's diversity inspires dining delights in a variety of culinary styles
Learn More | View Properties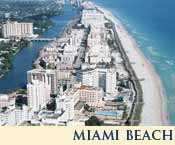 Miami Beach, Florida's picture-postcard winter playground has blossomed into a sophisticated community that welcomes visitors at any time of year. Miami Beach offers more than fantasy Art Deco buildings; it is blessed with diverse cultural institutions, public beaches and boutiques that put a designer spin on Miami Beach shopping. Miami Beach, Florida's trendy charms revolve around its cuisine, sizzling nightspots and cultural scene.
Learn More | View Properties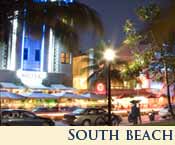 South Beach, Florida has been called the American Riviera and an Art Deco Playground. Yet there's more than fine white sand to South Beach's fantasyland of exuberant architecture. South Beach, Florida offers an eclectic mix of world-class boutiques, galleries and stores, and South Beach rates as a culinary hot spot for gourmet to casual cuisine. At night, South Beach comes alive with crowds dressed in party-casual chic.
Learn More | View Properties