PPIG can provide you with all the resources you need to help you find your home, condominium or waterfront property in Key Biscayne.
About Key Biscayne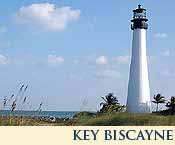 Search Properties
» Key Biscayne Homes
» Key Biscayne Condos/
Townhouses
» Key Biscayne Land
» View a Map of Key Biscayne
Key Biscayne
Community Links
The secluded island of Key Biscayne, Florida can be reached via the scenic Rickenbacker Causeway, which spans beautiful Biscayne Bay. Located south of Downtown Miami and north of Coconut Grove, Key Biscayne touts miles of golden sand beaches and quaint, quiet neighborhoods. At Key Biscayne, Florida, you can play tennis at the Crandon Park Tennis Center, home to the NASDAQ 100 Open tournament every March, while Crandon Park Golf Course's intriguing terrain puts it among the top 50 public courses in Florida. Tropical foliage lines the Key Biscayne road to Bill Baggs Cape Florida State Recreation Area, where the beach invites swimming or kayaking.
» Search Key Biscayne Properties
Key Biscayne Schools
For more information about schools visit http://greatschools.net/.
ELEMENTARY & MIDDLE SCHOOL
Key Biscayne K-8 Center
150 W McIntrye Street, Key Biscayne, FL 33149 public PK-8
Key Biscayne International
160 Harbor Dr Christian, Key Biscayne, FL 33149 private PK-6
St. Agnes Academy
122 Harbor Drive, Key Biscayne, FL 33149 private PK-8
St. Christophers Montessori
95 Harbor Dr, Key Biscayne, FL 33149 private PK-5
Map of Key Biscayne