PPIG can provide you with all the resources you need to help you find your home, condominium or waterfront property in the Miami.
About miami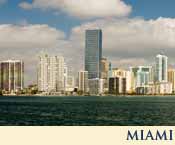 Search Properties
» Miami Homes
» Miami Condos/Townhouses
» Miami Land
» View a Map of Miami
Miami
Community Links
Miami and the surrounding metropolitan area are situated on northern Biscayne Bay between the Everglades and the Atlantic Ocean. By population, Miami is the second-largest city in Florida (after Jacksonville), and the county seat and largest city of Miami-Dade County. It is also the largest city in the South Florida metropolitan area.
Miami's explosive population growth in recent years has been driven by internal migration from other parts of the country as well as by immigration. Greater Miami is regarded as a cultural melting pot, heavily influenced both by its very large population of ethnic Latin Americans and Caribbean islanders.
The region's importance as an international financial and cultural center has elevated Miami to the status of world city; because of its cultural and linguistic ties to North, South, and Central America, and the Caribbean it is sometimes called "The Gateway of the Americas." Florida's former status as a colony of Spain, and its continued ties ith that country (Spain has a consulate in this city) and her colonies also make Miami and the surrounding region a contemporary part of the Hispanic world.
» Search Miami Properties
Miami Schools
For more information about schools visit http://greatschools.net/.
Miami Map